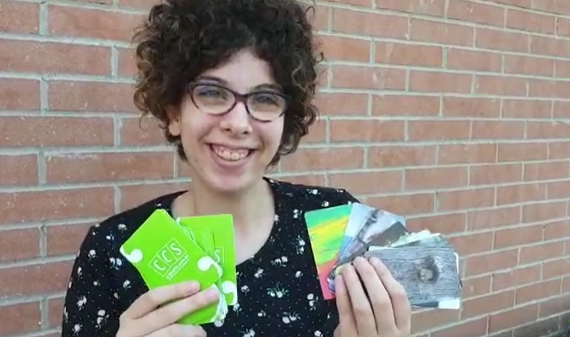 Da Gennaio a Giungo 2021 ho accompagnato il Direttivo Giovani dell'Associazione Toscana Spina Bifida in un percorso di intelligenza emotiva, orientamento al lavoro e sviluppo imprenditorialità, mettendoli anche in rete con Imprese, Associazioni di categoria, Sindacati e Agenzie del lavoro, Grandi Organizzazioni No Profit, e Pubblica Amministrazione.
Per alcuni laboratori (intelligenza emotiva, idea generation, vision e mission) abbiamo usato le carte e metodologia CCS di cui sono partner strategico.
Anna Martinelli ci ha lasciato la sua testimonianza sul valore che è stato per lei usarle, non solo in aula, ma anche fuori, nei contesti di vita quotidiana.
What are CCS Cards?
Shuffling through a pack of image cards as you think about a given topic, activates your brain. It stimulates all kinds of thoughts, memories, new ideas and emotions — even things that may not have come to you without the cards.
The Compatibility Communication System cards (or CCS Cards for short), are sets of photos, illustrations and words that have been expertly chosen for their capacity to trigger such responses in group facilitation, teamwork, coaching, relationships and self‑discovery.
•easily create trust and open communication • promote mutual disclosure
• tap tacit knowledge
• improve listening, sharing and collaboration
• ensure participation from the whole group
• stimulate creativity
Developed in Australia by CCS Corporation, following its beginnings as a world-wide award‑winning board game, the CCS is a unique communication product with a wellestablished capacity to stimulate conversation, interaction and clarity in group facilitation, coaching and self‑discovery. B
y using the capacity of imagery to tap emotions, new ideas, tacit knowledge and lived experiences, the CCS promotes full participation, clearer communication and a non‑threatening, light‑hearted atmosphere.
This makes it easier for people to uncover, openly share and communicate their thoughts and feelings. For over 20 years, the CCS has been used in more than 70 countries around the world —crossing all manner of language and cultural boundaries.
The CCS is used in programs for education and training, organisational and human resource development, team management, coaching, counselling, relationship development, conflict resolution, career development and self-discovery.
How CCS Cards work?
1. Everyone gets their own pack of CCS Cards.
2. Any card can mean anything to anyone at any time — there are no set meanings for the images.
3. So, everyone is free to pick whatever images they feel best represent the topic for them.
4. A topic is given and everyone shuffles through their packs to select cards.
5. Everyone shares their choices to reflect, connect and create.
CCS CORPORATION STRATEGIC PARTNER
Elena Piani | Piani Projects
e: elena@pianiprojects.com
t: +39 346 0846579 w: pianiprojects.com